There are too many of them, but I will only mention some of Bollywood stars who recently made a new movie or fall into category as handsome hunk. As much as I love Shahrukh Khan, you probably won't see him on this list. Since he is more of a drama actor and the king of romantic movies.
Despite of the numbers on this list, I was not planning to put it as a rank. Hunk no 10 could be better than hunk no 2 in my opinion and your hunk could be better than my fav hunk.
1. Randeep Hooda
He falls into category of Bad Boy. His recent movies are Jism 2 (not so recommended) and Highway (Super Recommended). In both movies, he played the anti hero role. (Spoiler) Both end tragically. I cried so much for Mahabir Batti. He really captured my heart with his role in 'Highway'. I was surprise because his first movie that I watched is 'Jism 2'. So I wasn't expecting that I would be head over heels for Mahabir, his role in 'Highway'.
2. Arunoday Singh
His Recent movie: Main Tera Hero as the bad and kinda dumb but hot cop
He has a freakishly small head compare to his body builder body. It looks kinda weird to me, but it depends on his hair cut. On this one, he looks normal and cute. But on Jism 2, aaargh, that hair cut creeps me out. I first saw him on a movie titled "Aisha'. He was charming there and his voice was so sexy. So he is in my category of handsome hunk 'occasionally', but his charming and sexy voice made him into this list.
3. Varun Dhawan
His recent movie: Main Tera Hero and Student of The Year
This hunk is the hottest item right now. The King bee and the naughty hunk. Nobody could resist his charming but naughty smile. He has the brightest character (at least on all his movies). Somehow, his role in 'Main Tera Hero' kinda reminds me of young Salman Khan. Salman used to play those naughty but hot hunk on his several movies directed by David Dhawan, like 'Chal Mere Bhai', 'Biwi No.1', 'Yeh Hai Jalwa', and etc. So, I would say he is the new Salman Khan. Both body builder, both naughty, both has cheeky smile.
4. Ranveer Singh
Recent Movie: Ram Leela, Gunday
Thanks to Sanjay Leela Bhansali for making this guy our heartthrob. He might be the hottest hunk in Bollywood right now. He is also a bad boy of Bollywood. He plays gun smuggler in Ram Leela and Gunday. Well, kinda similar role and both with romantic heart. How could you say no to a 'greek looking god' of a man who says "
Jitni tu sexy hai utni tu danger(
You are as dangerous as you are sexy)"
My dill goes hmmmmmm when I saw him.
5. Arjun Kapoor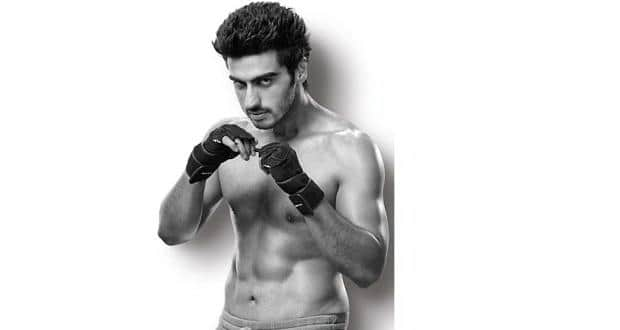 Recent Movie: Gunday and 2 States
He is both tall and handsome. Also has a rich facial expression. He can look pierce in 'Gunday' but look boyish in '2 States'. Completely 2 different role and he manage to play the role nicely. He managed to look melancholic as a writer and a college boy in '2 States', but you see him in 'Gunday' he screams bad boy for his role.
Okay, I am stuck now. Anyone else? Care to share? Abishek, John, Akshay are definitely sexy. But let's find someone with a younger age and just play in a new movie (2013-2014). Any idea?