Girls, how many of us has been dreaming about dream wedding ever since we were kids? Plenty, I bet. Tho some girls dreaming about changing the world instead or some others dreaming bit of both.
I had my dream wedding since I was really small. It keeps changing from time to time depends on what I was into that year. I dreamt of wedding on the beach..white canopy set on a beautiful white sand beach with blue and white flower for decorations, a Santorini feels set.Then I dreamt of wedding in a small backyard garden at night with dim lights decorating the setting and creamy white canopy for the wedding stage and decoration was mostly dominant green, light and dark brown, and off white color. A rustique and antique looking set. At other time, but this is a rare occasion and my least favorite dream, a wedding in big ballroom.
Andien and Ippe's Wedding
Andien, a famous singer in Indonesia has always been famous for her classy style on her outfit. Turned out it was not for her outfit only. She also has particular yet dreamy and classy style for her wedding too. She was one of few lucky people who get to experience and make their dream wedding come true.
Some of this pictures of their wedding is coming from thebridedept.com website. You can check the website for more pictures of wedding related theme.
Setting in Pine Forest Camp, Lembang
Wedding vow
The lucky bride and groom
After Party
These pictures bellow is from alodita.com Make sure to check her blog too. She is an aspiring Indonesian beauty and lifestyle blogger.
Snacks Station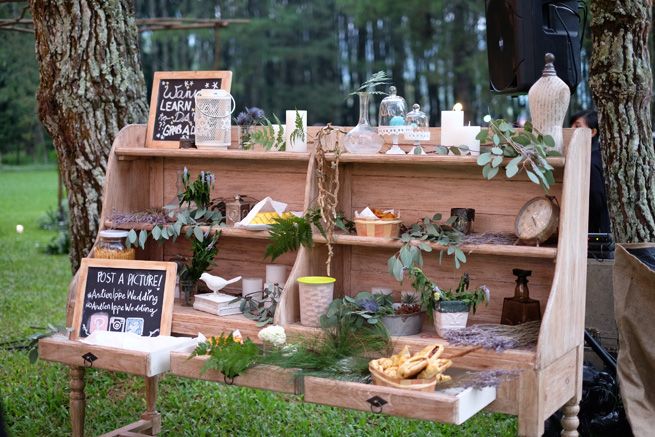 Another snacks station
Andre and Stella's Wedding
Andre is my husband cousin. He just got married to a very bright beautiful Stella. Husband and I got invited to their wedding in Uluwatu, Bali. Pictures from this wedding are my own collection. Check my instagram id: Suci_park for more pictures on the wedding.
They had their wedding in a beautiful near cliff location in Uluwatu. A perfect spot to catch some sunset too. Everyone suddenly turned into sorta professional wannabe Instragramer including me. Can't help it, everything was just so perfect and beautiful.
preparing for the ceremony
celebrating the ceremony
Congratulating the bride and the groom
watching sunset while waiting for dinner to start
Rundown and Song lyric
Wedding Ceremony
menu and gift box
Dinner Party
Unfortunately our flight was for really early in the morning, so we could not join the after party. So there is no picture for the after party. I think it was probably in our hotel's bar.
Let me know what is your favorite one and what kind of dream wedding you want?